A combo of Cirque do Soliel and Yoga!
Intro to Aerial Yoga for Absolute Beginners
This class introduces the safe and effective use of the Aerial Suspension Yoga Sling that will give you a complete body workout. You will learn the basic skills and technique for this new aerial genre. Students will learn how to use the Yoga Sling in a safe and effective way to discover how inversion and aerial movements strengthens the core and decompresses the spine.
Aerial Yoga
If you have already taken Intro to Aerial Yoga, this class continues to provide a complete overall body workout with the use of the Aerial Suspension Yoga Sling. The class is designed to increase flexibility, balance and coordination. Participants will discover how aerial movements and inversions help achieve deep stretches, decompresses the spine and strengthen the core. The Aerial Sling or Hammock is an exceptional yoga tool. The sling is also a great tool for split training, supported back-bending and handstand training. Discover this new apparatus and reap the benefits it has to offer for an all over body workout.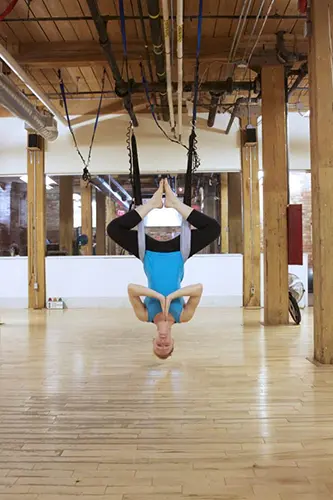 Purchase a 10 Class Pass of Yoga (and all other classes) here: