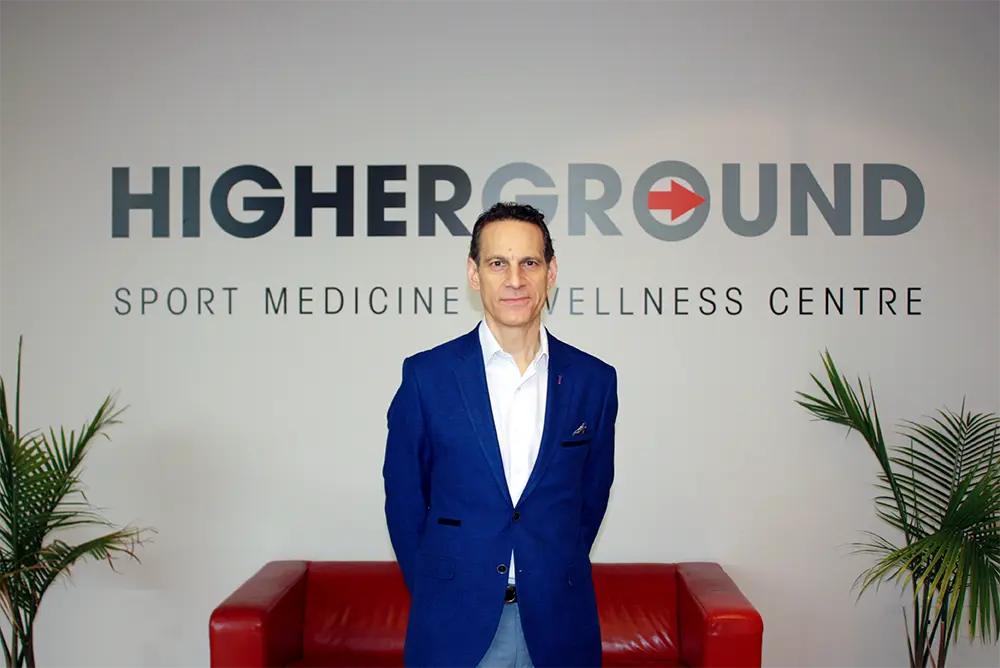 Sports Medicine is a specialized area of medicine focusing on understanding, diagnosing, and managing muscle, joint and skeletal issues as they pertain to sport, exercise and general movement.
Sports Medicine is offered at Higher Ground Health Clubs located at 382 Yonge Street. Sports Medicine is a specialized area of medicine focusing on understanding, diagnosing, and managing muscle, joint and skeletal issues as they pertain to sport, and exercise. 
We invite anybody experiencing pain to book with us here at Higher Ground to see our physician Dr. Tim Rindlisbacher. To request an appointment, we ask that you either email us at [email protected] or give us a call at 416-913-9123 extension 2. Consultations are covered by OHIP and there is no referral required.
Please read more below to understand our sports medicine specialty. 
What Is a Sport and Exercise Medicine Physician?
Sports Medicine Physicians are Medical Doctors who are licensed by the College of Physicians and Surgeons of Ontario. They hold board certifications with the College of Family Physicians of Canada or the Royal College of Physicians and Surgeons of Canada only after completing medical school and post-graduate residency education.
They have additional specialized training in the field of Sports Medicine and other related sub-specialties. Visits are covered by the Ontario Health Insurance Plan (OHIP) with a valid health card.
For more information, please visit the Canadian Academy of Sport and Exercise Medicine website. See linked below:
What does a Sport and Exercise Medicine Physician Do?
Sport and exercise medicine physicians diagnose and help manage acute, degenerative, and overuse joint and muscular problems
Prescribing exercise and physical activity for maintaining good health in preventing and treating chronic medical conditions like high blood pressure, heart disease, diabetes, osteoarthritis, and depression.
Treating exercise-related medical problems such as concussion and asthma.
Providing care for people of all ages in recreational, amateur, elite, and professional sports including pre-participation medical assessments, sporting event medical coverage, anti-doping, environmental issues, mental health, and treating athletes with disabilities.
Prevention of injury and medical illness related to physical activity and sport.
In some cases, injections are the treatment of choice. These may include cortisone, hyaluronic acid, and other options.
Why Choose One of Our Sport and Exercise Medicine Physicians?
At Higher Ground Health Clubs, our Physicians will go through a comprehensive examination that includes a thorough history and physical examination to determine your diagnosis and management plan. They may recommend further investigations including x-rays, ultrasounds, MRI, CT scans, bone scans, or other outside medical services if needed.
They will inform you of all your treatment options and answer any questions you may have to help you make the best decisions for your injury management.
Our Sports Medicine Doctors
Dr. Tim Rindlisbacher

Sports Medicine PhysicianMedical Director

Ultimately, Dr. Tim's professional goals are not just to keep high level athletes "in the game" but also to promote healthy active lifestyles for everyone. He believes strongly that family physicians should be the centre of patient care so physician referrals are preferred.
Yes, sports medicine is covered by OHIP as well as any Valid Provincial Health Card. UHIP can also be used however coverage may vary
Do I need a referral to see a Sports Medicine DR?
No, you do not need a referral to book an appointment with Doctor Tim
Can I make an appointment with a non-sports injury?
Yes, all injures can be looked at by Doctor Tim regardless of cause
Can Dr. Tim request further Diagnostic Tests?
Dr. Tim can request:
MRI Bone Scans X-Rays
CT Scans Ultrasounds
as well as other medical services that are needed
Additional Services Offered
Dr. Tim can also provide additional treatments on sight, including:
Custom Knee Braces
Cortisone or Hyaluronic acid Injections
Sports Medicine can also look at Chronic Medical Conditions such as
Heart Disease

Diabetes

Osteoarthritis
As well as Exercise Related Injuries such as
Back Pain

Asthma

Concussions

Joint Pain

Dislocatoins

ACL tears
Sports Medicine is covered by OHIP and UHIP (coverage may vary). If you do not have coverage payment can be done in person for the appointment
Book a One-ON-One Chiropractic Assessment
Everyone's fitness goals are different, and you need a customized training program designed for you. Your complimentary consultation with a certified Personal Trainer helps you discover which training options are best suited to you.